How to Hang a Banner on a Wall with BannerSaver™?
Not all pole banner hardware is designed with universal mounting in mind. Thankfully, BannerSaver™ pole banner hardware is created with an intuitive "flat back" design and predrilled holes, making it well-suited for various installation techniques including wall mounting! Adaptable to nearly any light pole and even unconventional mount points like affixing to an exterior wall, BannerSaver™ pole banner hardware still maintains its renowned wind-spilling capability!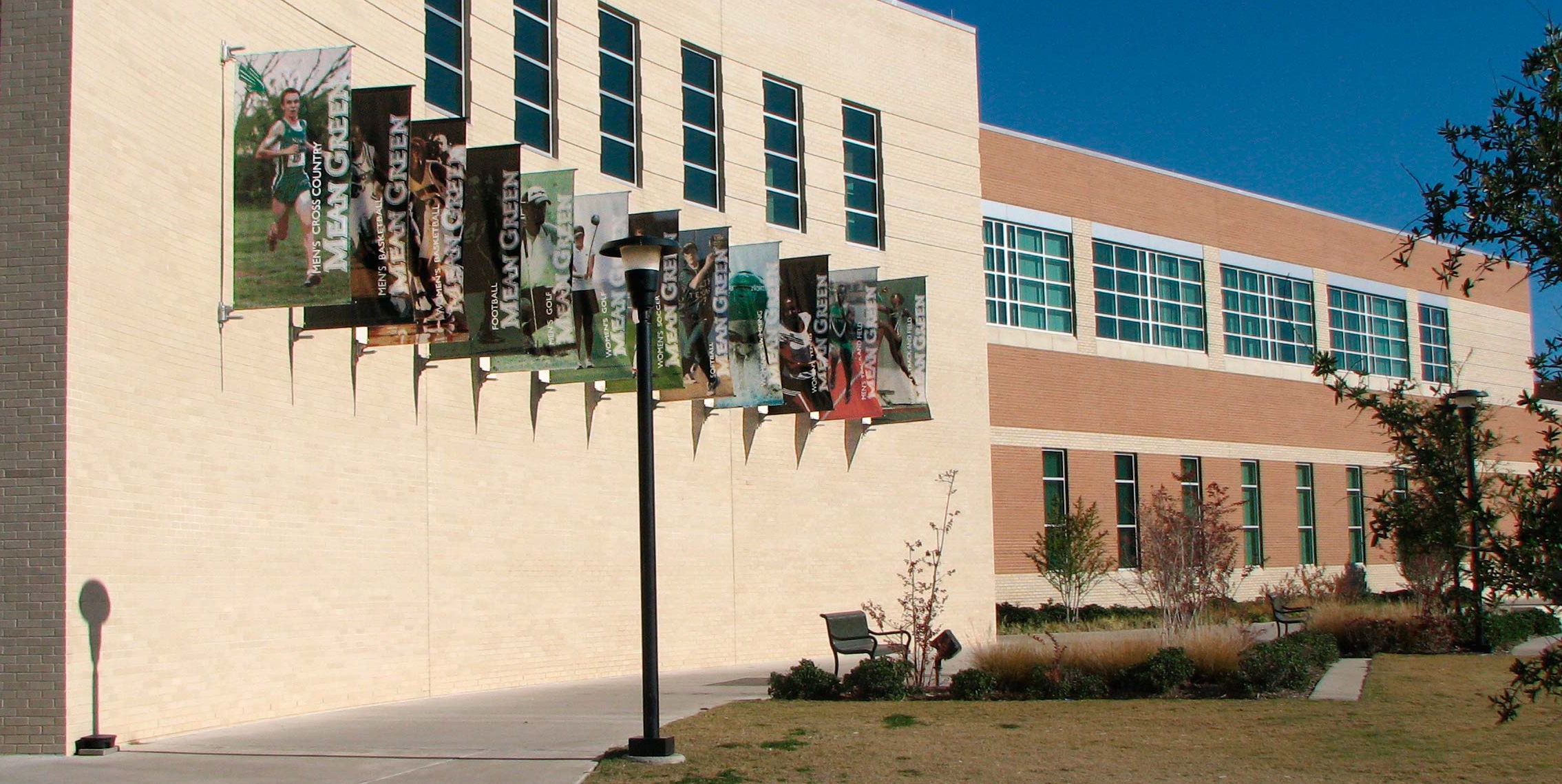 When Should You Use Wall Mounted Banners?
Wall mounted banner hardware expands the usability of banners, offering businesses, city planners, universities and non-profits more places to share messages. Here are a few advantages of wall mounted banners:
A cost effective medium for seasonal messaging (as opposed to permanent signs)
Ideal for tight spaces and odd locations not suited for light poles
Creative branding for narrow sidewalks and pathways along buildings
Unique displays that do not obstruct snow removal, landscaping or maintenance crews
A perfect workaround when light pole banners are not permitted by utility companies and other controlling parties
More creative freedom and opportunity for sponsorship and branding that may be limited by regular light pole banner program guidelines
Professional Installation to Hang Banners on Walls
Wall construction, age, and materials vary greatly between different buildings and structures. Due to these variables, wall hanging pole banner hardware should be entrusted to a professional. Your local installer will need to be very involved in determining the proper attachment point and appropriate installation method.

Pole Banner Hardware Paired with Service
Committed to reliable service, the BannerSaver™ team applies our decades of experience to ensure that your wall mounted pole banner hardware is properly installed. Providing 24/7 customer care, helpful tips, and knowledgeable advice, we make the BannerSaver™ installation process a breeze!
Choosing the Correct Pole Banner Hardware for Wall Installation
The correct BannerSaver™ size is based on the same criteria as selecting banner hardware for light poles. There are four models of BannerSaver™ pole banner brackets that correspond to the size of the banner:

Standard- up to 20 sq. ft.
Large- up to 23 sq. ft.
XL- up to 30 sq. ft.
— Use a 3/8" bolt when installing BannerSaver™ Standard and Large brackets.
— Use a 1/2" bolt when installing BannerSaver™ Extra-Large brackets
— Banner arms are custom fitted and cut to each order
Ingeniously designed for universal application, BannerSaver™ is the leading pole banner bracket no matter where it's mounted!