Buy cheaper pole banner brackets now and you'll pay for it later. Here's why.
Nobody wants to overpay for anything. But the adage, you get what you pay for, is especially true when it comes to buying pole banner brackets.
High-quality, spring-loaded BannerSaver brackets are built to deliver years of maintenance-free function. And that goes far beyond the reality that BannerSaver units are built like a proverbial tank.
Just install them correctly and—aside from basic/occasional maintenance checks—you don't ever have to worry about the hardware slipping or failing ever again. Plus, unlike inferior static and breakaway brackets, wind-tunnel tested BannerSaver have been proven to preserve the life of your pole banners and protect the light poles (or walls) they're attached to from wind-load stress and storm-damage.
If you're in the market for pole banner brackets, check out this breakdown on why aiming for short-term savings can lead to long-term loss of your time and money:
THE PROBLEMS WITH CHEAP BRACKETS
Pole banners are becoming more and more common in parking lots, shopping centers, and downtown districts across America. City managers and retail property owners have discovered the untapped revenue potential of turning naked streetlights into profit centers.
Light pole banner programs deliver a fast and surprisingly easy way to make money. But this sometimes creates a misguided temptation to build the basic infrastructure for these programs the most inexpensive way possible—namely by using old-school static and breakaway banner brackets that tend to be cheaper for reasons not in your best long-term interest.
LOW-QUALITY MATERIAL
Avoid brackets cast with low-grade aluminum that cracks and easily corrodes. Beware of flimsy, fiberglass support arms can break and splinter simply from everyday use. Stay away from throwaway banner retention clips and parts that constant need replacing.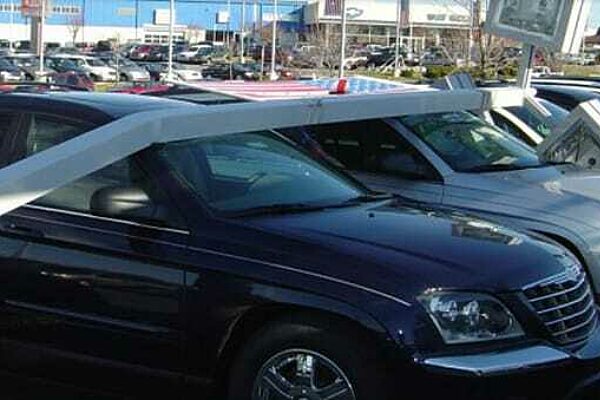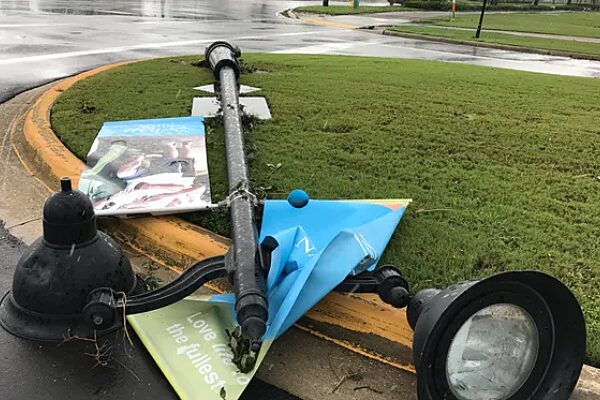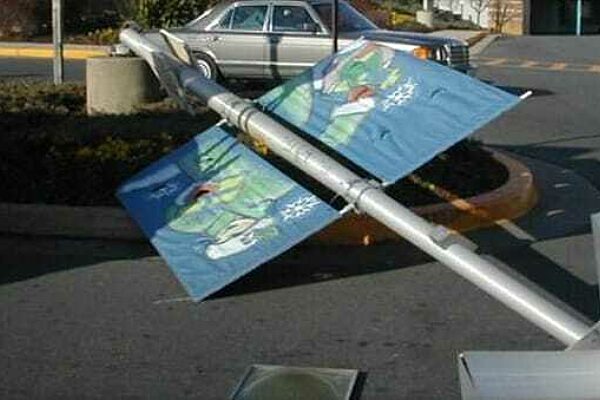 SHORT WARRANTY LIFE
Or no warranty at all. This is an instant tipoff for banner brackets that will give you trouble or suck you dry with constant headaches, maintenance, and repair costs. Steer clear of any pole banner bracket offering anything less than a 10-year warranty.
STATIC ARMS
Especially those that are epoxied into their housing. Placing a banner on a light pole outside is like attaching a sail to an immovable object. Despite manufacturer claims that their support arms "flex" in heavy winds, what typically ends up happening is arms snap clean off. Or your banners rip and tear. Either way, you're on the financial hook for replacing something.
BREAKAWAY ARMS
Even worse are so-called "breakaway systems." Wind is by definition erratic and unpredictable. Simply physics dictates that there's no way possible to have a banner support arm breakaway when it's supposed to. This leads to torn banners, broken bracket/housing components, or support arms that breakaway constantly, meaning you're left rehanging and replacing banners after every storm.
ONE SIZE DOESN'T FIT ALL
Cheaper brackets tend to be rated to display only specific size banners, mostly one standard, rectangular design boring to advertisers who like to keep their options open. With inferior brackets, changing up your banners can mean having to invest in an inventory of multiple-sizes rather than one unit/design that can accommodate a wide range of sizes and shapes.
SLOPPY PRESENTATION
Brackets without offset support arms result in pole banners that are not perfectly tensioned from top to bottom, even on a good day. Sagging banners that flap around in the slightest breeze are more prone to tears and are not attractive to advertisers looking for flawless presentation of their messaging.
SAY 'NO' TO MESH AND WIND SLITS
Beware. Inferior brackets often require banners be made of mesh material or include wind slits for increased wind-flow. For the best-looking banners on any city block—and a banner program that advertisers want to be a part of—the most vibrant printing is only possible with heavy-weight and fade-resistant blockout vinyl.
The BannerSaver team is driven by the belief that value is 100-percent in our customers' best long-term interest. We're not here just to make a sale; we're looking to build a positive, lifetime relationship with the people whose needs we serve.
For bracket hardware, light pole banners, and/or light pole banner programs proven to turn a profit, contact us at 883.667.2837 or info@bannersaver.com for more information or guidance that will help you make the best decision for your city or business.
Related: The Power of Pole Banners. Big Return On A Small Investment