5 things that determine the right pole banner hanging hardware for your project.
Ordering pole banner brackets and hardware seems like it should be the simplest thing in the world. You have a parking lot or a street lined with empty light poles. You have the banners—or at least an idea of what type of printed banner you want to display. Buying the brackets should be the easy part, right?
It can be with BannerSaver's online Advisor tool. This timesaving solution makes ordering more efficient and customized to your specific needs. Just answer five quick questions, click, and you get an instant quote for the exactly right size and quantity of pole banner brackets (and necessary hardware) you'll need to complete your unique project. No back-and-forth with email or phone calls. Two-day shipping. And no surprises when your product arrives, ready to install.
Here we breakdown what information you'll need and why:
1. BANNER WIDTH, HEIGHT & QUANTITY
Your banner size dictates the right bracket size/model and banding requirements (standard vs. heavy) for your project. Some think bigger is better when it comes to pole banner hanging hardware. Not so with BannerSaver.
Each BannerSaver bracket model (ranging from small to extra-large) is engineered to deliver maximum strength and durability when paired specifically to the banners you plan to display. You don't need to pay more for brackets and banding that's overkill. BannerSaver is also one of the few companies that custom cuts your top and bottom arms based on the unique size of your banners, resulting in minimal overhang and a more beautiful, professional presentation.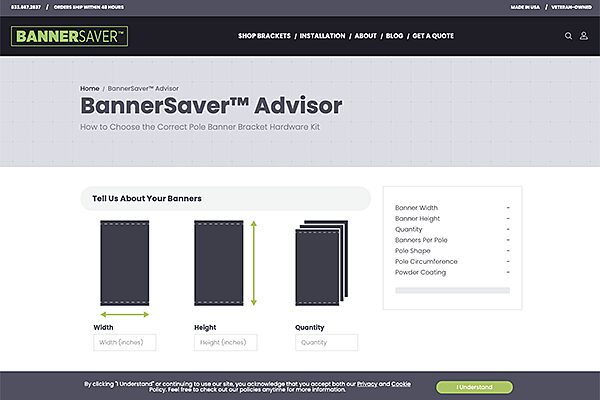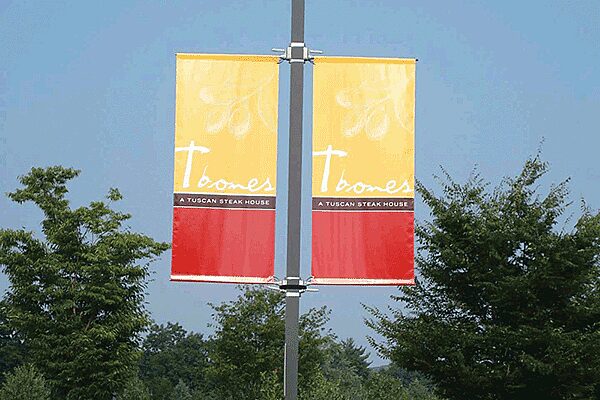 2. HOW MANY BANNERS PER POLE
Engineered with patented, wind-spilling technology, BannerSaver's spring-tension system lets your banners spill wind as wind-speed increases. This reduces wind-load forces, which protects banners from tearing and your light poles from extreme stress.
Unlike tradition, static pole banner brackets, BannerSaver's unique, wind-spilling design also delivers the freedom to create eye-catching, multi-banner displays. Just remember: if you're planning displays featuring more than one banner per pole, this can impact the quantity of brackets and the amount of banding needed. Two banners per pole? Four banners displayed in a 4-Up or circular configuration? These need-to-know details are critical for giving you the most accurate price quote and complete kit, the first time.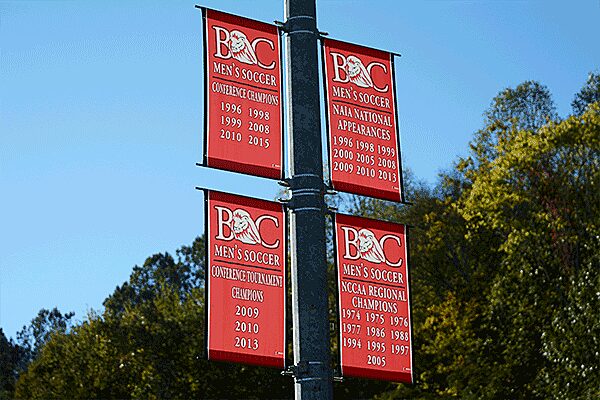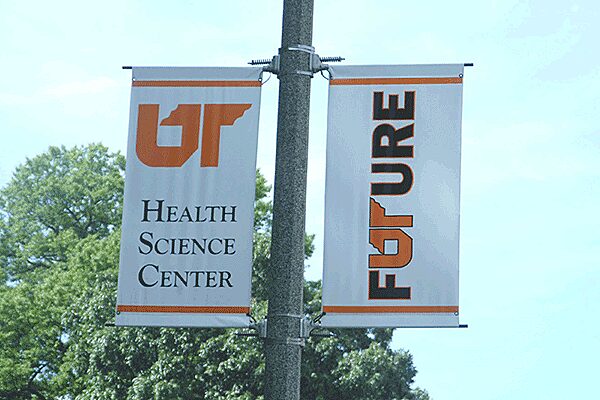 3. SHAPE & MATERIAL OF THE POLES
Light posts provide more than light in parking lots and city streets, they accent the avenue or highway on which they stand. For that reason, not all light poles are created equal. They can be round or square, fluted or some other decorative shape made from steel, aluminum, concrete, wood, or fiberglass.
BannerSaver brackets are unique in that they can be installed on any pole (and walls, too). Knowing the shape and pole material is critical for knowing which type of banding you'll need. For example, we recommend heavy-duty banding for square poles to lessen the chance that your brackets will slip or slide down the pole. Also, if your poles are made from wood, it's possible to skip banding all together and simply bolt your bracket directly to the pole.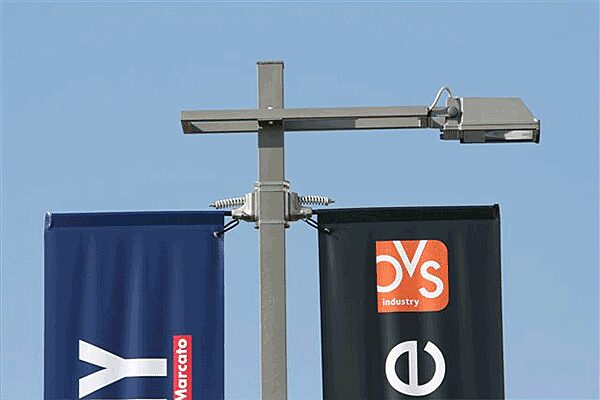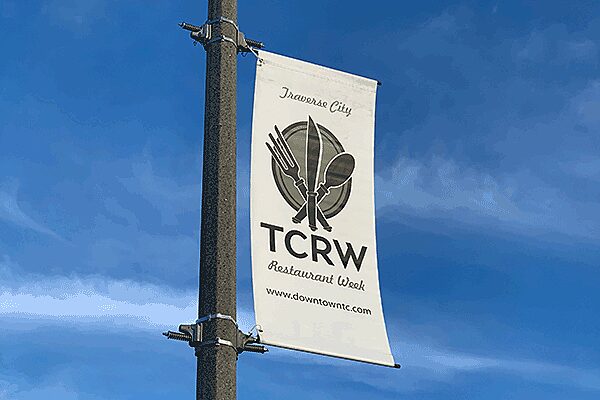 4. CIRCUMFERENCE OF THE POLES
Our preassembled, heavy-duty bands come precut at 68" for a double-wrap around poles and with a tensioning buckle preinstalled. Our standard, hose-clamp-style banding combines a screw-driven tensioning and stainless-steel, corrosion resistance for set-it-and-forget-it reliability over the long haul.
Banding is simple to install with only a hex key or screw driver (standard) or a banding tool (heavy-duty). Whatever the type of banding your projects requires, knowing your poles' circumference determines exactly how much standard or heavy-duty banding you will need.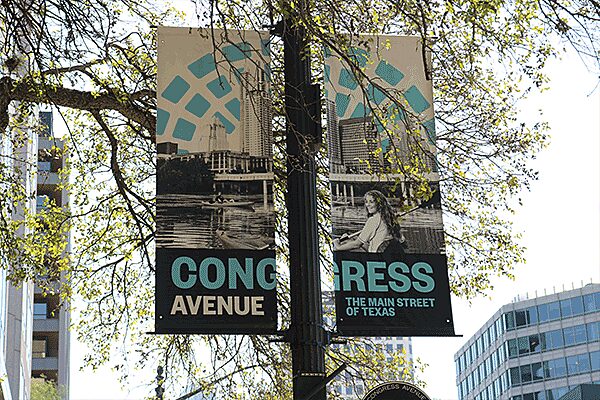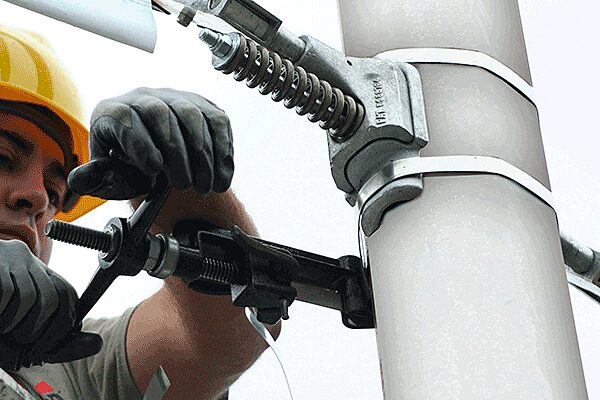 5. DO YOU NEED POWDER-COATING?
BannerSaver can powder coat your brackets any custom color as long as it's black (nod to Henry Ford). But seriously—powder coating creates a more durable, chip-resistant finish that we do encourage for customers in coastal cities, sea-side venues, or other corrosion-prone areas.
Powder coating is a proven "corrosion inhibitor" that can help prolong and maintain tactile strength of BannerSaver's steel springs and cast body construction. Standard banding can be powder-coated, as well. But for heavy banding, powder coating is discouraged due to the "teeth" on the heavy-banding buckle that can scrape off the power-coat protection during installation.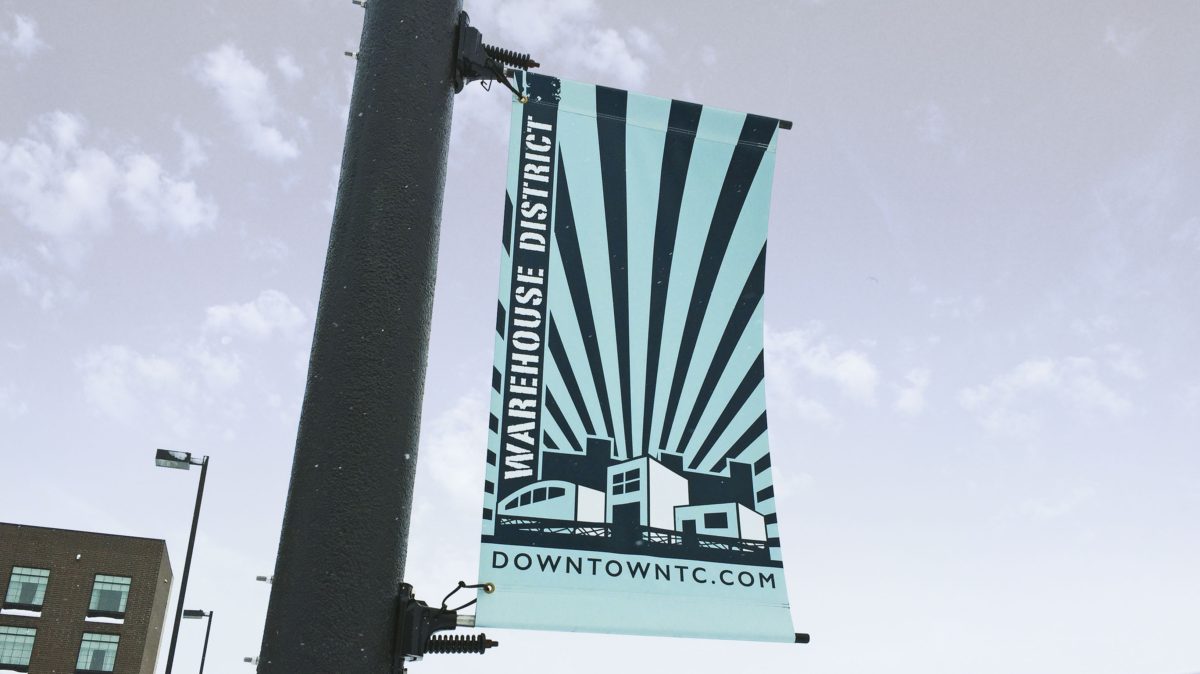 Need more help? The BannerSaver team is here to answer your questions. Please call at 833.667.2837 or drop us an email at info@bannersaver.com.