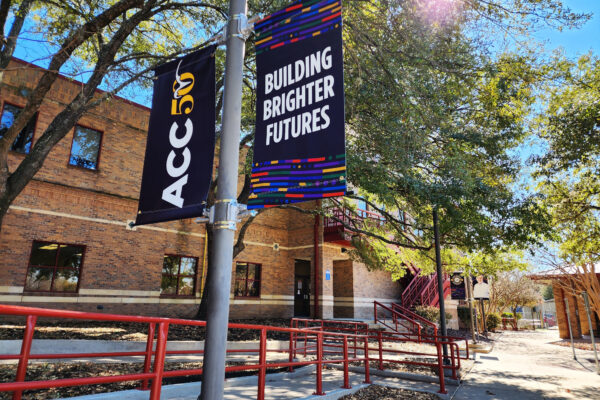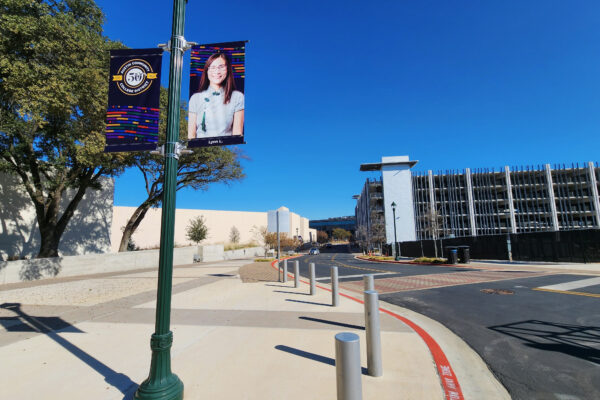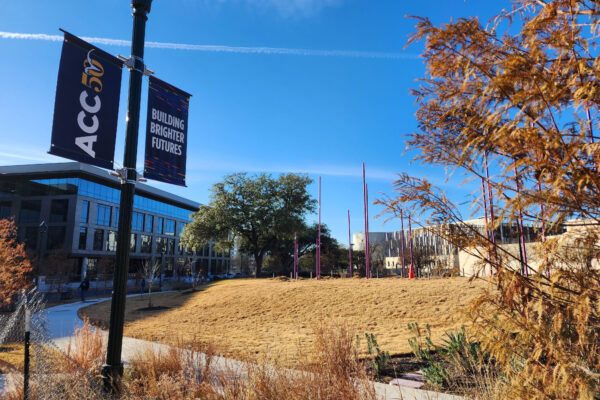 situation
Founded in 1973 with just shy of 1,800 students, Austin Community College District (ACC) has since flourished. Now enrolling over 70,000 students annually, spanning 11 campuses with two more campuses planned to open in the next few years, this educational institution has been a staple of the Austin area and has helped empower and connect individuals with higher education.
Approaching their 50th anniversary, ACC's Office of College Relations & Marketing was in search of an extensive pole banner program that would commemorate the benchmark and also create a sense of school unity and pride. "We created a campaign to celebrate the anniversary across all campuses, thus creating a unified look," said Marketing and Event Coordinator Dahlia Anzaldua-Torres. "We want the students, faculty, and staff to see themselves." In need of a reliable partner to complete this community-focused undertaking, Austin Community College turned to Britten and BannerSaver™ to make it a reality.

solution
Utilizing over 200 print banners to be dispersed across every campus, the intent was to create a uniform presentation for the 50th anniversary of Austin Community College. Along with this universal element, the imaging would also include an element representative of each individual campus. To achieve these goals, the pole banners would be two-sided displays, featuring the college's 50th Anniversary emblem and branding on one side and on the obverse a highlight of an Austin Community College member.
"All pictures are real students, alumni, faculty, and staff, to model our community," said Anzaldua-Torres, "We were very thoughtful about the representation so that the people on the banners would reflect the actual community of each campus."

Firmly secured with sets of extensively tested and trusted BannerSaver™ pole banner brackets, these commemorative Austin Community College displays were certain to endure even in the blustery and wide-open landscapes of some of the campus locations.
impact
Handling the print work and providing the patented BannerSaver™ pole banner bracket systems, Britten created a comprehensive pole banner solution that sought to bring visibility, pride, and representation to the campuses of Austin Community College. "Seeing the [50th anniversary] logo reminds people that they are part of the community," said Anzaldua-Torres. "Once those banners went up, the self-esteem of everyone walking past those banners went up. They loved the image, they loved the quality, they loved the way the banners looked."
A durable product backed by a committed team, the BannerSaver™ crew made sure that Austin Community College received everything it needed in a timely manner. "I've been really impressed," said Anzaldua-Torres, "I would definitely recommend BannerSaver™ to others. The services and products are excellent, and we are delighted with our order."