Try these simple, festive additions for retail décor that packs more of a visual punch
Jazzing up holiday retail décor can be challenging and expensive for mall property owners already stretched thin. But it doesn't have to be. With some strategically placed additions and festive visual accents, you can make your existing signage more seasonal and also create more engaging holiday displays.
These simple ideas are designed to inspire the delight that inspires holiday purchasing, improves brand image, and encourages the curiosity that helps you welcome more customers into your store.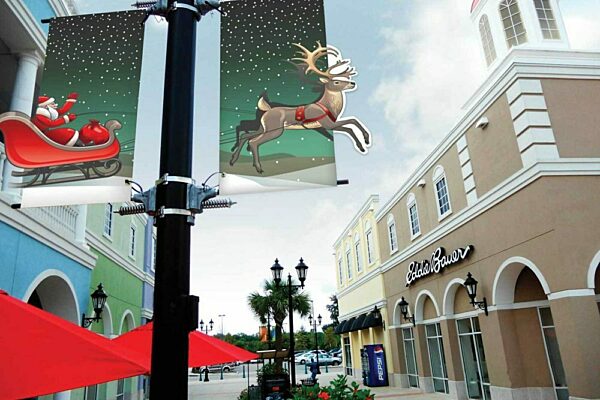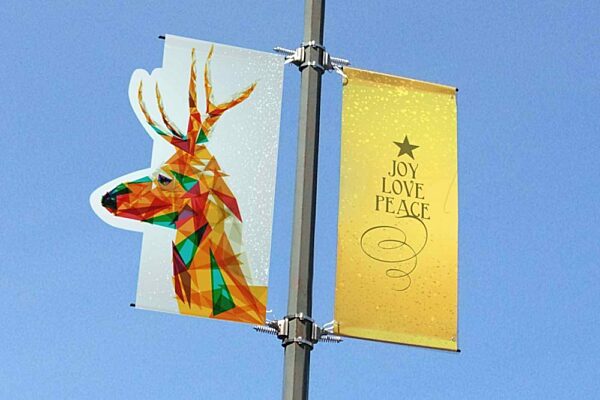 1. HOLIDAY POLE BANNERS

Est. Price: $125 per banner
Easily adaptable. Budget friendly. Adding light pole banners to shopping district streets or your parking lot extends holiday promotions and messaging into places where customers aren't normally reached. Custom banners cut into eye-catching shapes can be swapped out easily to highlight seasonal sales, special events, wayfinding, or simply add a splash of welcoming color for holiday shoppers.
Shaped banners paired with wind-spilling, BannerSaver™ wind-spilling hanging hardware ($150 per set) are specifically designed to keep your promotions rolling even when the holiday weather turns fowl. With BannerSaver, banners can even be mounted on light poles, sidewalk lampposts, and even walls indoors or outside. A small expensive that can deliver a big ROI for your business, pole banners are a versatile part of any holiday advertising strategy.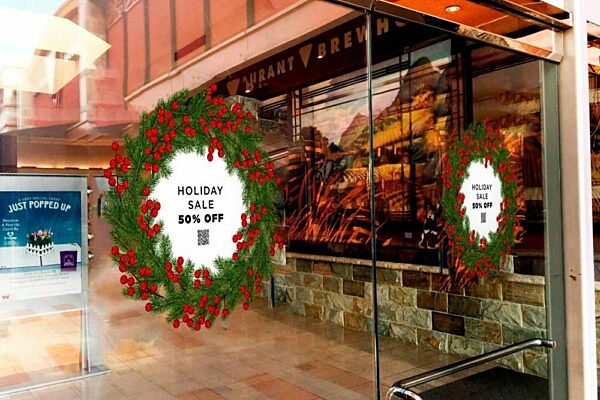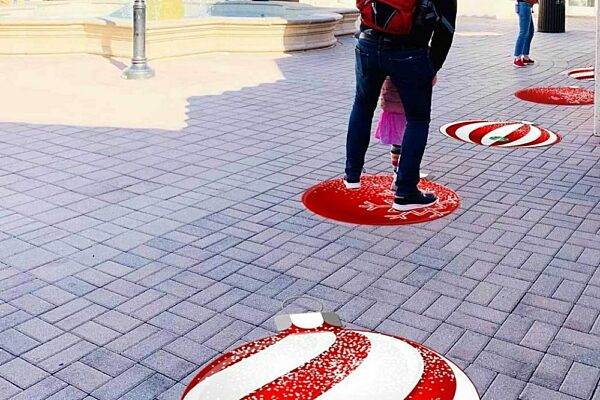 2. HOLIDAY DECALS
Est. Price: $25 to $75 each
Unique die-cut window, wall, and floor decals can communicate special promotions, last-minute deals, and festive accents (die-cut ornaments, evergreen trees, etc.) that can be applied and removed easily and with no residue. Durable floor decals—which can also be used on rough surface walls and sidewalks—can also be used for fun holiday wayfinding (think Santa feet leading from the parking lot to your storefront).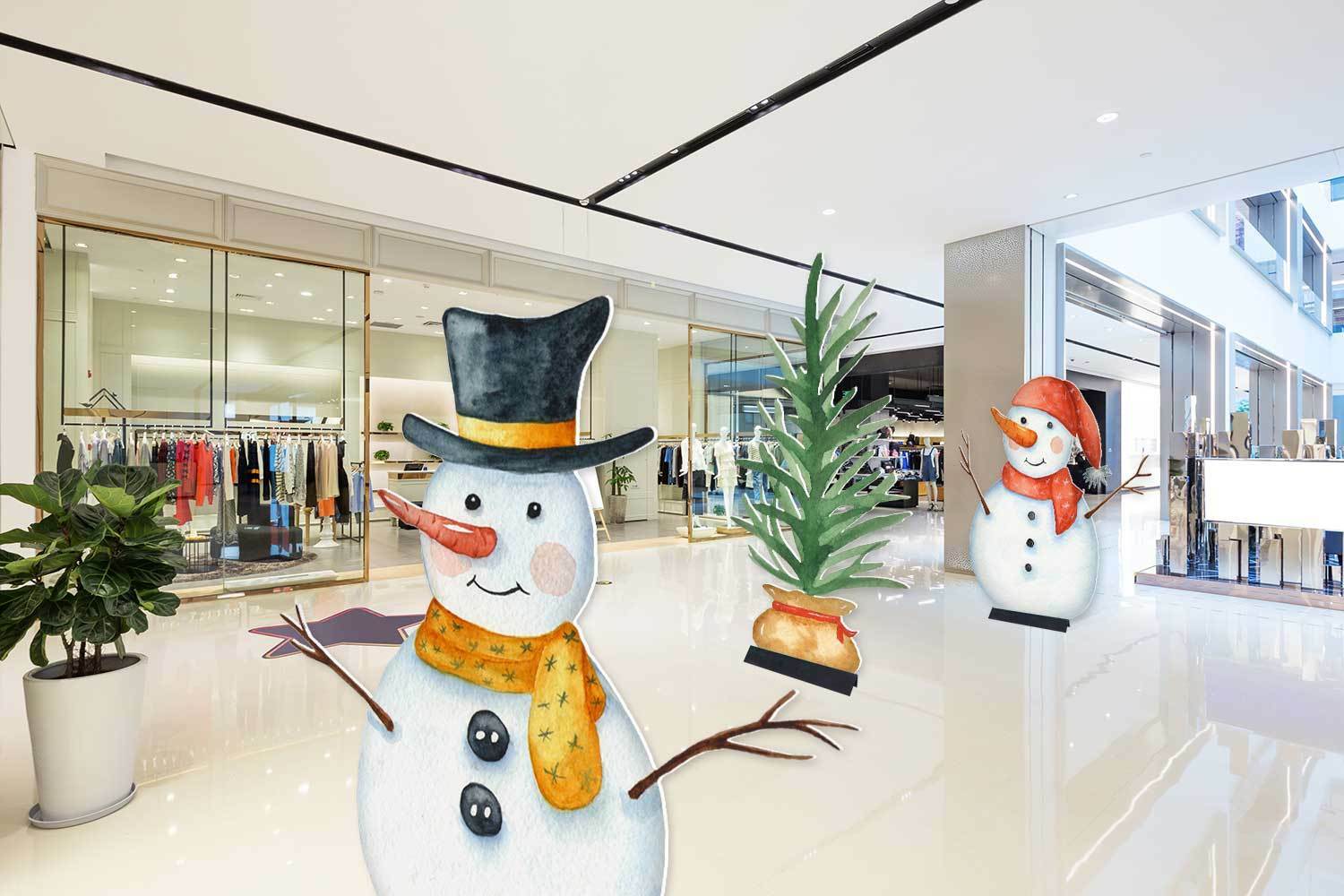 3. LIFE-SIZED CUTOUTS
Est. Price: $200 each + optional $90 base plate
Anything from snowmen to snowy evergreens, angles to workshop elves, can be made fast and cost-effectively with die-cut rigids and custom, double-sided printing. Up to 84" H x 42". Create an entire wintry village for a holiday window display. Or populate your store with an army of eye-catching holiday elves.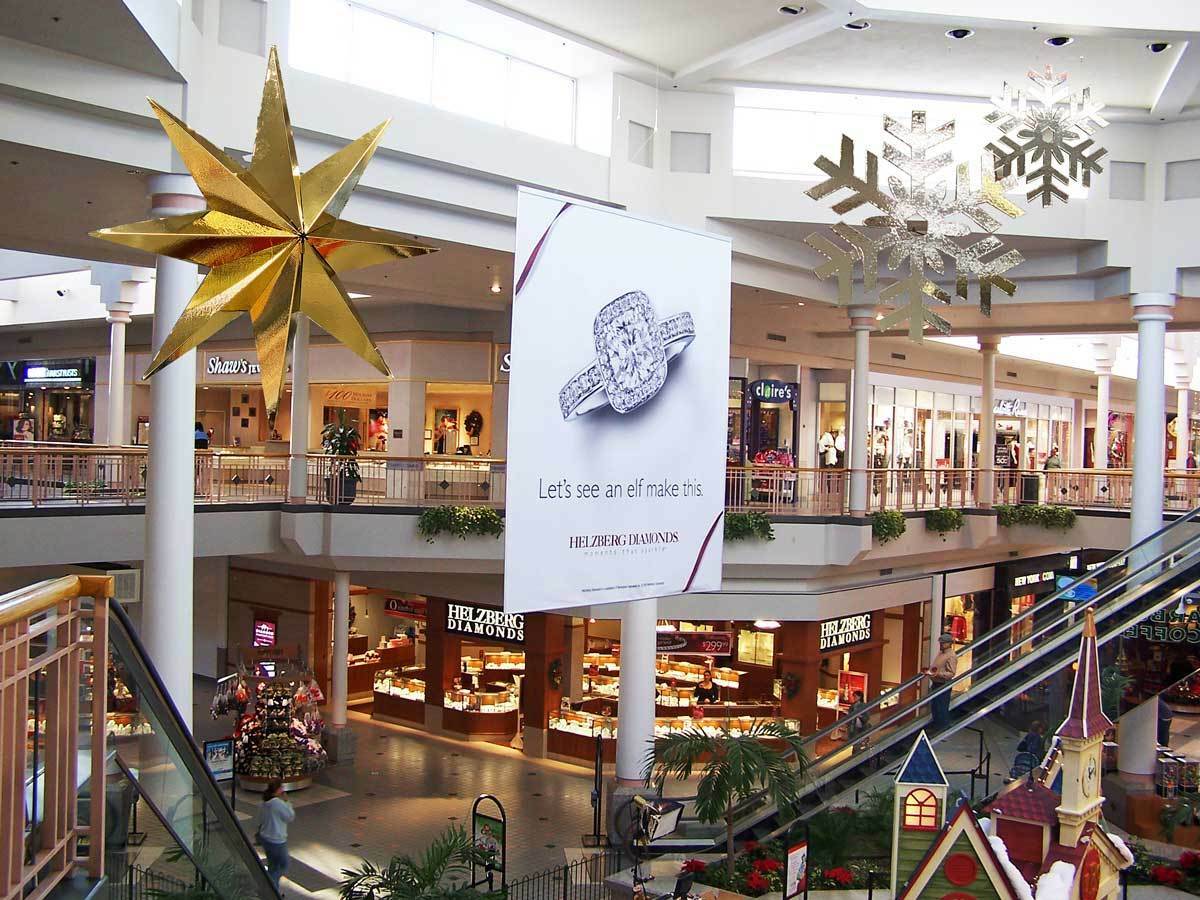 4. DIMESIONAL ACCENTS
Est. Price: $200 each
Draw the attention of passersby toward special holiday sales and promotions with two-dimensional accents made with PVC plastics and acrylics. Stars to snowflakes, acorns to tiny angels—any accents you can think of can be die-cut, printed, and designed to hang on walls or columns, suspend from the ceiling in a food court, or inside window displays. Double-sided, rigid accents can be purchased in bulk lots.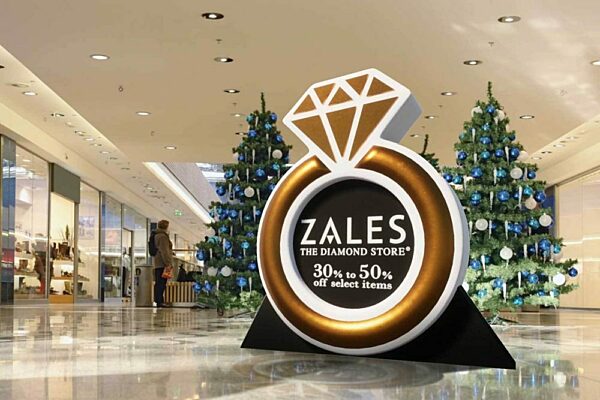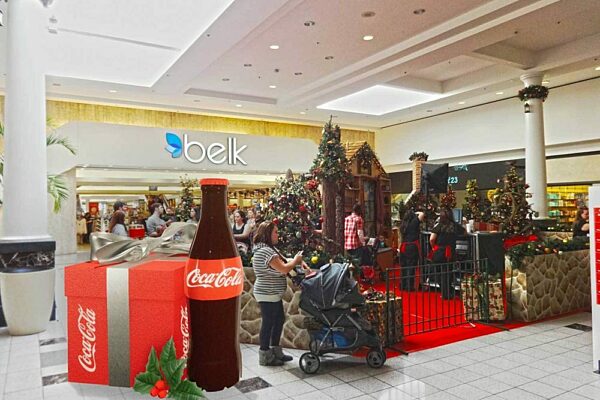 5. FOAM3D™ COMPLIMENTS
Est. Price: Starting at $3,000 per sculpture
If you're looking to callout your mall's Santa set sponsor, announce a holiday sale, or simply extend a festive message, Foam3D™ sculpting technology delivers an eye-catching solution that's hard to ignore.
From giant selfie-signs and life-sized mascots to giant perfume bottles and diamond rings—Foam3D allows you to turn virtual any idea into eye-catching focal points and photo-ops. If you have a hand-sketch, photo, or digital drawing of the object you're looking to create, you can transform any holiday-themed idea (logo or hashtag) into a fun prop or even an interactive selfie-sign for customers to snap and share on social.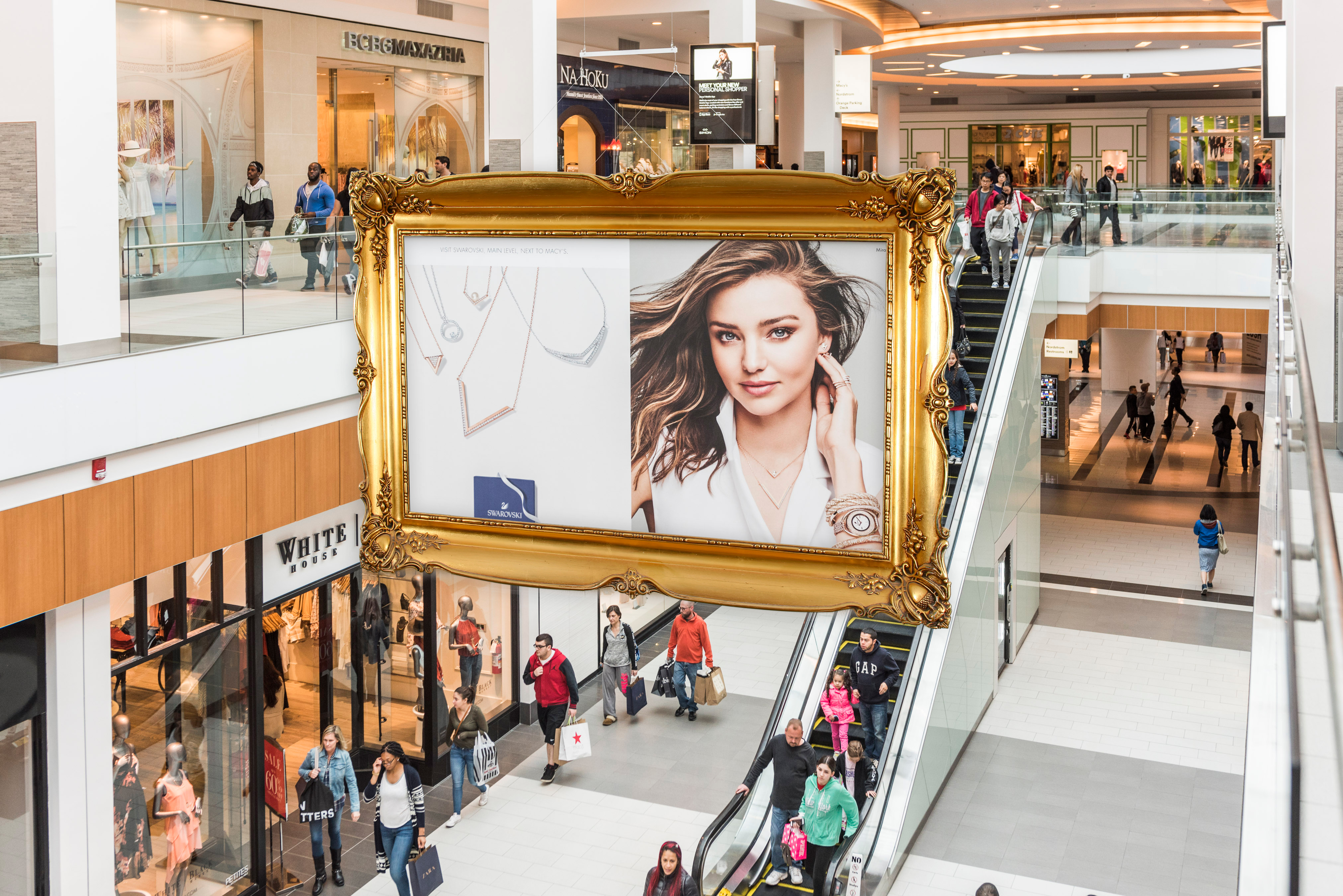 6. FESTIVE FRAMES
Est. Price: $300 to $500 per set
Looking for an easy and inexpensive way to add a little holiday zing to your wall-mounted, freestanding, and BannerDrop™ ceiling displays? Try some festive frames made from durable Styrene. Standard sizes include 8' x 14', 5' x9', and 12' x 8'. Choose silver or gold. Single or double-side printing to dress up the most common SkyBanner, hanging, or wall-mounted frames.