How an ex-pro wrestler turned sign-maker created the best pole-banner bracket in the world.
Everybody knows the name Mohammed Ali. Few if anyone, however, could ever recall the name of the pro-wrestler, "Beautiful" Buddy Wolfe, who in 1976 stepped into the ring with the heavyweight champ for a unique boxing vs. wrestling exhibition televised on ABC's Wide World of Sports.
Designed to build some hype leading up to Ali's globally televised money-fight with Japanese professional wrestler, Antonio Inoki, the matchup involved all the bad refereeing and theatrical violence familiar to modern wrestling fans.
After taking a couple dramatic body slams to the canvas, Ali miraculously recovered and began bloodying Wolfe's forehead with punches before being declared the winner after three rounds. Ali went onto make millions in the match against Inoki. Wolfe went back to the wrestling circuit, eventually retiring in the late '80s to his home state of Minnesota where he found a new calling.
From Small Town to Big Sports
According to a Slam Wrestling profile, Leslie "Buddy" Wolfe was born in Blue Earth, Minnesota in 1941. He worked in a cast-iron foundry after high school (an important footnote given his second-life as an inventor), but ultimately wanted more than a small town could deliver.
Standing 6-foot and weighing 220-pounds, Wolfe decided to enroll at St. Cloud University in 1960 where he became a two-sport athlete—a wrestler who was good enough to be considered for the 1964 Olympics and a powerful lineman who was scouted to play in the Continental Football League, a major pro-organization outside the NFL from 1965 through 1969.
Since pro football promised more money than wrestling for Team U.S.A, Wolfe moved to Virginia for starting position with the Norfolk Neptunes. He wound up playing two years, receiving both Rookie of the Year and MVP awards, before the promise of even better money lured him to North Carolina and the start of his pro wrestling career.
Wolfe became part of the fledgling American Wrestling Federation and later the NWA, traveling for shows throughout the South and Texas in the 1960s. Notable highlights in his decades-long career included wrestling in Madison Square Garden and holding the title of NWA Heavy Weight Champion in Florida.
Slam Wrestling's remembrance of Buddy Wolfe describe him as a "jobber" or journeyman, a supporting actor skilled at make the bigger stars of the day look good. His ability to take punishment and perform in front of packed crowds made him the perfect spoil for the fight against Ali.
The encounter gave Wolfe's stock a small boost. He traveled and performed internationally until retiring in 1988 to a home near Hackensack. At age 47 and needing a new way to make a living, he tried running a t-shirt shop then a restaurant before taking work as a silk-screener.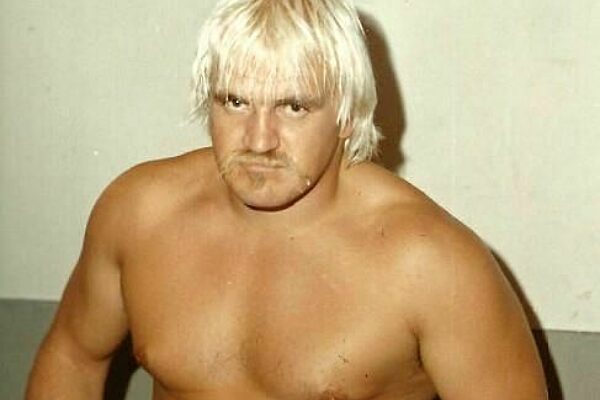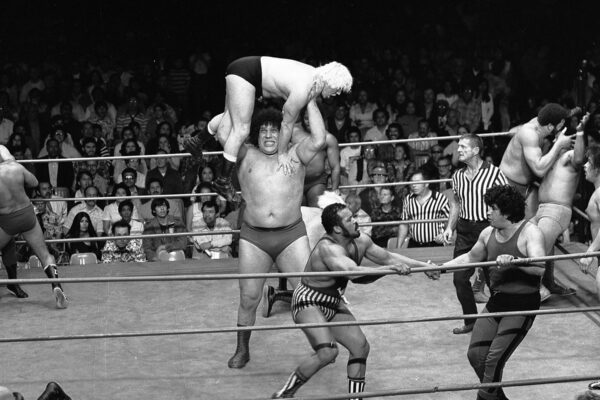 BannerSaver is Born
"Most don't know this, but Buddy's early career as a professional athlete had a lot to do with his invention of the BannerSaver bracket," says Paul Britten, who in the mid-1990s was also just starting out in the sign and banner printing business in Traverse City, Michigan.
"One day Buddy watched some banners he printed getting ripped up by some strong winds, and he thought about the ball-and-socket of human shoulder," recalls Britten. "Buddy wondered if he could build a pole banner bracket with a flexible 'arm' that would move forward and back in any kind of wind."
Wolfe knew banners mounted on traditional brackets with fixed fiberglass arms presented a number of problems. In high winds, a pole banner acted like a sail resulting in torn signage, shattered fiberglass arms, and sometimes damage to the light pole itself. Tapping what he learned in Blue Earth's cast-iron foundry decades before, he built a prototype and started testing.
"Buddy rigged and mounted a pole into the bed of a pickup. Then he'd drive down the highway at various speeds to see what would happen to the banners and test brackets he mounted to the pole. When he finally found one that worked, he patented the design and began selling them to his sign customers and through a print ad in Signs of the Times."
Britten saw the ad for the Banner Saver Pro 2000 and became a frequent customer. Just as advertised, it was easy to install, resulted in fewer service calls from customers needing replacement banners after storms. Wolfe's bracket was so good, he continues, it was even used at the 2002 Winter Olympics in Salt Lake City.
"Still, Buddy was the one who picked up the phone every time I called to order. Over the years, the two of us became acquainted. I was buying so many of them that one day—after a call from Disney World asking if I could supply brackets and banners for around 1,000 parking lot poles—I just asked Buddy if he'd ever consider selling."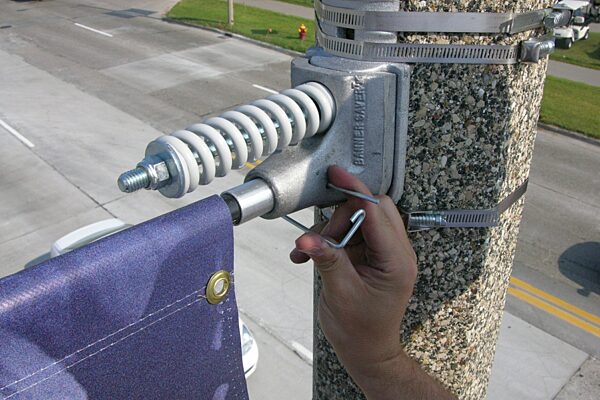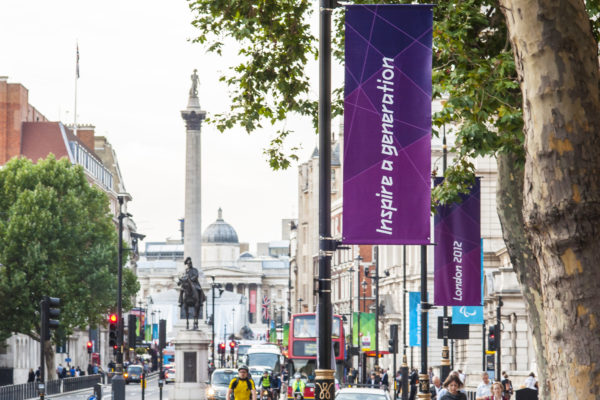 BannerSaver Goes Global
After a handful of conversations, Britten traveled to Duluth to meet Wolfe in a bar where they scratched out a formal deal on the back of a cocktail napkin.
"Buddy was definitely a unique individual—a non-traditional businessman, for sure. I first offered him a lifetime royalty on every bracket we sold. But he wanted to keep it simple with a lump sum followed by a fixed schedule of regular payments. We sealed the deal with handshake in 2005."
Under the new BannerSaver trademark, Britten strengthened Wolfe's original patent and made modern design improvements. Among them, tougher die-casting (instead of sand casting); higher grade aluminum; and a special, rust-inhibitor coating to the springs.
"Now almost 20 years later," says Britten, "we've sold almost a million units in every major city from London to Los Angles—Africa, Russia, Australia—and on every continent except Antarctica."
Wolfe kept in touch long after the sale. He used the proceeds from his deal with Britten to support his eventual retirement from printing. According to his obituary, he worked on other inventions in his spare time, such as the Total Tone exercise machine and Tummy Twister. But he never told Britten about the lengthy battle with dementia that led to his passing in 2017.
"Buddy was smart, creative, and definitely a fun character," remembers Britten. "He saw a problem, and he solved it so well that nobody has yet—or will probably ever—come up with a better, more durable, or effective pole banner bracket design."
Want to see BannerSaver's reliability and toughness put to the test? Check out the wind-tunnel test that helped change the conversation around pole banner hanging hardware.